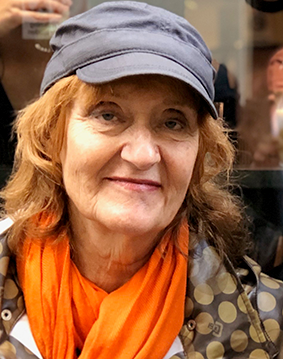 Painter Lena Selander was accepted for a residency in March 2020, with her film producer husband Christer Nilson. She had planned to paint in oil during her stay in Wairarapa, but with the Covid-19 situation, her plans had to change.
"I'm a painter. My name is Lena Selander, I live and work in Gothenburg, Sweden, and continuously exhibit my art.
I am married to Christer Nilson, film producer, and we have two adult children and two grandkids.
Previously, I combined painting with being a set-designer in civic theatres as well as fringe groups and production design for film & TV, but for the last 10 years now, I work exclusively in painting."
From experience, I know that staying in a previously unknown environment is a powerful means of creating new impulses in my painting and at the same time getting to know the new places, get new inspiration and find new friends and collegaues.
My motivations: People, animals and nature. A deep affinity with animals and nature creates a channel to depict what is emerging. In this process of painting, I drill to the depth and thereby make it private and accessible to others. The trees, the stones and everyone around tells me what to paint."