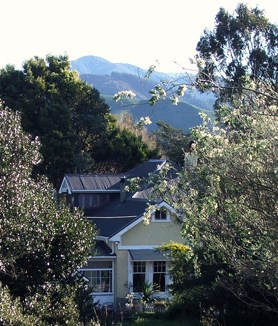 Emerging Artist Fellowship
Open for Applications from today 15 April 2016
With thanks to donations from the Wairarapa community, New Zealand Pacific Studio (NZPS) invites applications for a two-week residency at its multi-cultural residency centre in rural Wairarapa - a year-round facility for artists from New Zealand and abroad.
The purpose of this Fellowship is to support an artist at an early stage of his/her development, not only providing time and space for the creation of work but also with the sense of validation that such an award brings. The emerging artist also benefits from contact with other artists in residence.
Artists/writers/researchers working in any medium are welcomed to apply – writing, visual art, dance, storytelling, music, etc. They should have a particular creative project in mind, and should be in the early stage of their creative 'careers'. While in residence, the Fellow will be required to participate in an activity for the public, and this should be outlined in the application.
NZPS offers the 2016 Emerging Artist Fellow with two weeks of free accommodation (valued at $700) at a historic home set in the hills of northern Wairarapa, and local transportation within the Wairarapa (at $50).
The selection criteria include depth and breadth of the proposed project, dedication to one's art, willingness to engage in the community which has supported the fellowship, and the degree to which both the Fellow and the local community will benefit from it (although the focus remains on supporting the person in the serious creation of his/her work).
The inaugural Emerging Artist Fellow in 2014 was Bevan Shaw. Shaw worked on new paintings drawing on his environs; works showing landscape and issues surrounding its contestability; and works fired up by local political billboards and the crazy run-up to the parliamentary elections. After his fellowship at NZPS, Shaw went on to be awarded a residency in Beijing.
(Note: Funding is an annual decision. There was no Emerging Artist Fellowship in 2015, as funding was not secured. )
Application period: April 15 – May 15 2016
Application process: Please e-mail NZPS with the following in ONE DOCUMENT (eg Word or PDF) – please keep the file size under 2mb:
1. Your biography (under 300 words).
2. A description of your proposed project, its objectives and inspirations, why it is important to you, how it would benefit you and extend your practice at this time, and any specific requirements you may have.
3. When you would like to be in residence. The Fellowship must be taken before 31 October 2016. If your project requires you to be in residence at a specific time, please make this clear in your application.
4. A brief outline of what community activity you could offer.
5. A sample of your work (If a writing sample, no more than 1,000 words, please).
6. The contact details of two Referees whom we may contact if you are shortlisted.
Applications close midnight 15 May 2016, New Zealand time.
Apply by e-mail to Community Programme Manager, NZPS, info@artistresidency.org.nz.
The 2016 Emerging Artist Fellow will be in residence for two weeks at the historic Kaiparoro/Normandell House (1911) in the Wairarapa. The residency is self-catering: all residents need to buy their own food while in residence; a house manager is contracted to assist with transportation. In addition, residents bring necessary equipment and supplies with them, or liaise with NZPS about purchasing them once in residence.
The Fellowship is available to an individual. An applicant is welcome to propose a project of more than two weeks in duration, but accommodation and transportation costs beyond the sponsored period would have to be met by the applicant.
NZPS normally hosts an Open Studio Day during the period, at which the fellows – and all artists in residence – are asked to give a short presentation/performance to visitors. Fellows may also choose to donate a piece of art (copy of his/her book) to NZPS.
NZPS is a registered charity and a membership organisation.
Key skills sought:
Commitment to a personal creative practice; ability to work independently; a desire to connect with a wider audience and with the community; open-mindedness to be able to live and work with others at a multi-cultural setting.
Closing date:
15 May 2016, midnight, New Zealand time
Contact details:
Community Programme Manager, New Zealand Pacific Studio, Wairarapa/Tararua
info@artistresidency.org.nz
https://www.facebook.com/MtBruceNZ/
Ph +64 6 375 8441
Posted: Fri 15 Apr 2016