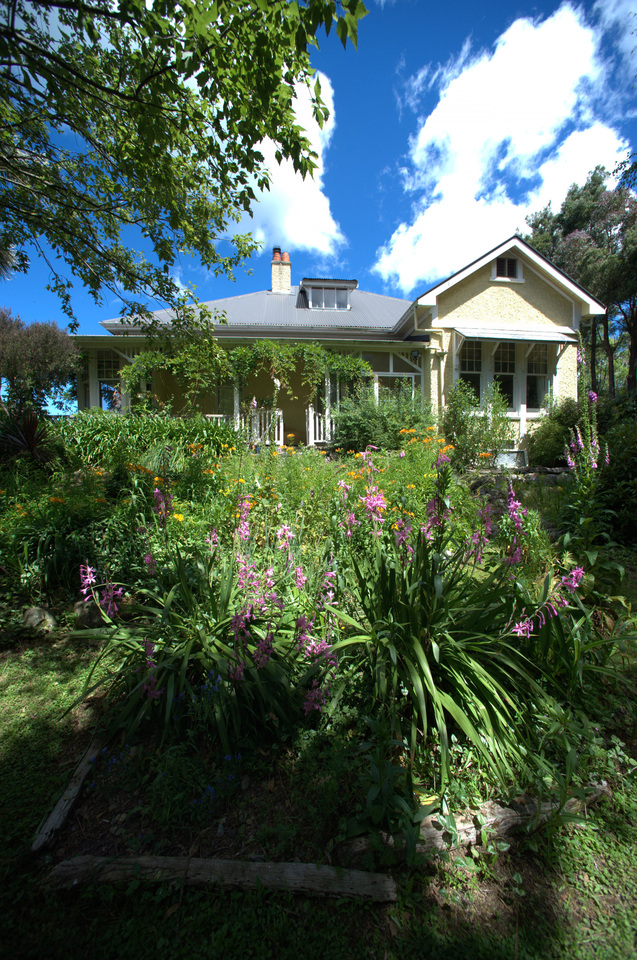 NZPS is a year-round multi-disciplinary residency centre in rural Wairarapa. NZPS comprises of a fully furnished historic villa (1911), various studio spaces, a library, cottage, gardens, and five acres of land. Residencies at NZPS are self-funded by artists at a rate of $350/week. NZPS offers a special creative practitioner the opportunity of longer-term accommodation as a House Manager, to explore their creative practice in Normandell House at a rate of $85 per week. The applicant will be a volunteer, taking responsibility for the day-to-day running of the house. Full training with regard to the property and its requirements will be provided.
NZPS can accommodate 4-5 residents at a time, and thus it offers a fantastic opportunity for exchange and collaboration with other artist residents. However, the House Manager may sometimes be the only resident, so you would need to be comfortable with sole occupancy from time-to-time. During these sole-occupancy periods, the House Manager can travel, if desired, bearing that residency bookings can change at short notice, so flexibility is required.
KEY SKILLS / REQUIREMENTS:
• Dedication to one's own creative practice.
• Ability to run an old house in a rural area on a daily basis.
• Good organisational skills.
• Mature with good interpersonal skills.
• NZ driver's license (or International Driver's Permit) and the ability to drive an automatic car.
Your own computer is essential, and familiarity with Office and 365 / One-Drive is preferable.
GENERAL RESPONSIBILITIES
• Review incoming email enquiries and make bookings. Communicate with incoming and outgoing residents about their arrival and departure schedules.
• Use the NZPS vehicle to collect and drop-off residents at train/bus/airport, usually in Masterton (20min drive) or Palmerston North (one hour away).
• Prepare bedrooms and studio spaces for residents (a cleaner is contracted weekly to support the House Manager).
• Welcome guests to the house and explain house guidelines.
• Make shopping trips (approximately once a week) with residents and provide a modest level of local transport to support their projects.
• Support and encourage the residents' creative practice.
• Liaise with NZPS colleagues in relation to events and outings.
• Issue exit survey to residents before their departure
How to apply
Please apply by e-mail with the following in one document under 1mb: a covering letter stating why you are interested in this opportunity, CV, and two references that attest to your house management skills. Applications will be processed as received, so if you are a good candidate, you will be contacted shortly after you apply.
Send to info@artistresidency.org.nz to the attention of Jean McCombie, Chair, NZ Pacific Studio
https://www.thebigidea.nz/work/217821-house-manager-nz-pacific-studio-artists-residency-centre
Posted: Sat 03 Mar 2018