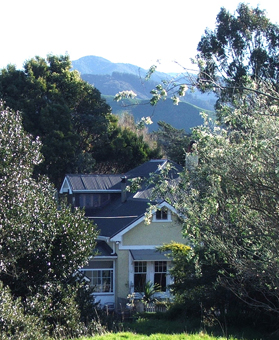 WINTER OPPORTUNITY
Winter is a wonderful time of year to be at New Zealand Pacific Studio, where artists / writers / academics / creative practitioners can take a week, a few weeks, or up to three months to focus on a specific project.
Our non-profit, multi-disciplinary, and cross-cultural residency centre is based in a beautifully restored 1911 villa with four fireplaces.
Located north of Masterton, home to Aratoi Museum of Art and History, and right beside Pukaha Mount Bruce, a bird sanctuary
Six unique living/work spaces, with 3 larger studios, and a smaller writing studio
An extensive library of 2,000+ titles
Norwegian-style cottage with studio, skylight, kitchenette, and firebox
Large loft with beautiful views of hills
Sauna, vegetable garden, woodland gardens
Complimentary entry to Pukaha National Wildlife Centre
Assistance with setting up any workshop, seminar, exhibition, performance
Live-in house management and support
Nearby caretakers
Free wifi, free landline telephone calls within NZ
Full linens, laundry facilities, weekly cleaning service
More information on the facilities: http://www.artistresidency.org.nz/433676/
If you would like to commit to, and enjoy, a period of productive work, then we encourage your application. Residencies are self-funded and self-catering, priced from $280-$400 per week, with pick-up from Masterton/Palmerston North included, if required. (An additional $40/week applies for transportation support, if you do not bring a vehicle.)
We are accepting applications for Winter 2018.
Applications are also accepted on a year-round basis.
Just e-mail us (info@artistresidency.org.nz) with
- a short biography (under 75 words)
-a photograph of yourself
-2-3 samples of your work / a link to your website
-an outline of what you plan to work on at NZ Pacific Studio (under 300 words)
Please keep your document under 1mb, thank you.
Since 2001, several hundred writers, visual artists, environmentalists, natural and cultural historians, storytellers, film-makers, curators, musicians, dancers, performers, choreographers, animation artists, scientists, post-graduate students and academics have stayed at our centre.
Key skills sought:
Artists / researchers who are serious about their practice.
Posted: Sat 26 May 2018