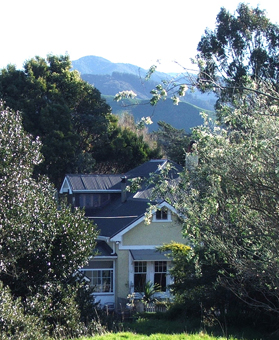 PRESS RELEASE: New Zealand Pacific Studio to leave 'Normandell'
Following the sale of its long-time Mt. Bruce home, NZ Pacific Studio (NZPS) is currently reviewing its operating model.
'Normandell', the historic Mt. Bruce house that has been home to NZPS for 17 years has closed its arts residency doors – after welcoming and giving inspiration to over 400 resident artists from around the world.
Acting NZPS chair Dr Helen Clayson says, "We shall be sad to leave the iconic 1911 home, rented in recent years, so lovingly restored by NZPS founder, Dr Kay Flavell. These artists, from many disciplines, have been inspired by the location and its proximity to Pukaha Mt Bruce and many have made valuable contributions to the creative life of the Wairarapa and Tararua communities."
In the short term NZPS board member Dr Rob Maunsell has offered the use of his large character home in Masterton to residents expected over the next few months.
Helen Clayson adds, "In the immediate future, we look forward to hosting our creative residents in Masterton. As well as being closer to an urban area, artists will enjoy proximity to Henley Lake and Queen Elizabeth Park, the river walks, Aratoi, the Library and Archive, King St. Arts, the arts, music, dance and writing communities."
But, as she says, it is the end of one era and the beginning of another. The NZ Pacific Studio Board is committed to continuing to provide excellent experiences for artists from around New Zealand and the world so they can work creatively and contribute in various ways to the Wairarapa and Tararua communities.
Posted: Mon 08 Oct 2018