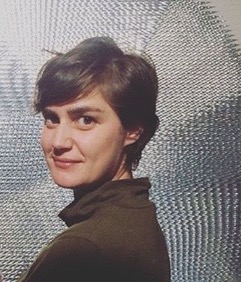 Eloise Kirk is an artist living and working in Hobart, Tasmania.
With a Bachelor of Visual Arts with First Class Honours and a Masters of Fine Arts with an Australian Postgraduate Award at Sydney College of the Arts in 2013, she has since held exhibitions in Sydney, Melbourne, Hobart and Christchurch, and an online exhibition at Chasm Gallery in New York. She has also been curated into exhibitions at Darren Knight Gallery, Roslyn Oxley, Art Space, and the College of Fine Arts in Canterbury. Her work has been included in the Safari Arts Festival and the Underbelly Arts Festival. She has been a finalist in the Fisher's Ghost Prize, the John Fries Emerging Art Award, the Macquarie Bank Emerging Artist Award and the Grace Cossington Smith Art Prize. In 2014, she was awarded a two month Moya Dyring residency at the Cite Internationale des Arts, Paris.
She writes, "My work explores the unification of painting, collage and installation, sampling images of geological formations. Through the use of erasure, fragmentation and collage I use a sequence of symbolic arrangements. I collect, divide and then reassemble images and materials, pitting the precious against the precarious. The work is explicitly elemental, offering an aesthetic response to the interval between beauty and disaster, straddling the periphery of the romantic and the surreal. Previous projects have been generated from both natural and human made geological formations including Queenstown, Tasmania, Icelandic lava fields, calcium carbonate structures at Lake Mungo (NSW) and the mesas of Utah. These sites all contain particular qualities that I have incorporated into a symbolic vocabulary.
"More recently, I have been navigating 3D Google Maps to geological sites and formations which inspire my work. This virtual drifting has paved the way to new formations and uncanny landscapes within my practice. I have been focusing on digital glitches in cloud formations and virtual voids, mimicking and producing otherworldly compositions, which are informed by elements of surrealism and technology, but reproduced using lo-fi and sentimental materials and techniques. These compositions signify a new space, outside of my wakeful reality, expanding upon the borders of natural forms, sampling and fragmenting landscapes from screen based imagery, printed matter and found paintings to create landscapes, which however off-center offer a possible return to the sublime, reclaiming a misplaced sense of romanticism."