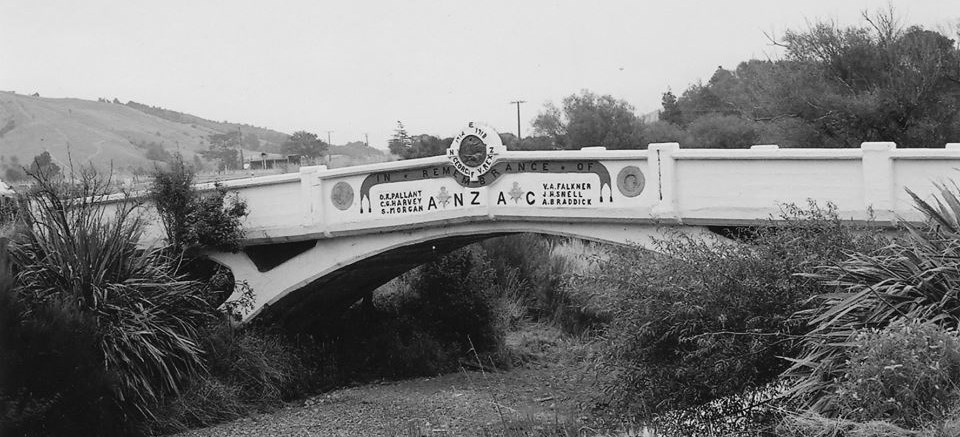 FRIENDS OF ANZAC BRIDGE FELLOWSHIP (since 2006)
Applications are OPEN
Deadline 22 January 2020
New Zealand Pacific Studio Artist Residency Programme and the Friends of the ANZAC Memorial Bridge Kaiparoro invite applications from creative practitioners for a three-week Fellowship in northern Wairarapa, New Zealand.
This artist works with issues surrounding war, peace, memory and history in conjunction with The Friends of ANZAC Bridge and the memorial service at the Kaiparoro Bridge on ANZAC Day, 25 April 2020.
The purpose of this Fellowship is to maintain a rich cultural context for the annual commemorations held on ANZAC DAY at the historic ANZAC Memorial Bridge Kaiparoro, a unique landmark in the country.
Every year since 2006, the ANZAC Fellow has enriched the ANZAC memorial service: the 2020 service will be held on Saturday, 25 April at 2pm.
In 2020, Friends of ANZAC Bridge are focusing on the Mounted Rifles and the horses that went to war.
The ANZAC Fellowship is made possible with a community grant from Trust House Community Enterprise, Masterton. It comes with the mandate that the Fellowship project engage the residents of the nearby communities on and around ANZAC Day (25 April) 2020.
Creative practitioners working in any media/genre are invited to make a project proposal that involves the participation of the nearby Tararua and Wairarapa communities - including Eketahuna, Kaiparoro Mount Bruce, Mauriceville, Rongokokako, Nireaha and Whakaoriori Masterton.
The Fellowship is to be taken up from 5th to 26th April 2020. (There is a little flexibility of these dates, but it must include ANZAC Day, 25 April.)
Previous ANZAC Fellows may apply.
Open to both emerging and established creative practitioners.
Accommodation will be provided at Whakahirihiri, a modern private home in beautiful Kaiparoro Mount Bruce. Whakahirihiri is close to ANZAC Memorial Bridge and Pūkaha, the national wildlife centre. The property looks out onto native bush and has bush/rural walking tracks.
THE FELLOWSHIP PROVIDES:
-Three weeks accommodation at Whakahiriri from (approx.) 5 to 26 April, 2020
-Up to $500 to support project costs
-Project management support and assistance to link with local communities
-Complimentary transportation from/to Masterton rail or bus terminus
-A car is available for limited local travel
BACKGROUND on the ANZAC MEMORIAL BRIDGE AT KAIPARORO and the FRIENDS
Friends of ANZAC Bridge (FOAB) was established in 2006, and NZ Pacific Studio was instrumental in forming the group. The group restored the ANZAC Memorial Bridge and continues to maintain it. FOAB received the Supreme Award at the Trustpower Community Awards in the Tararua District in 2015, and NZ Pacific Studio was a Regional Winner in 2018.
In 2020, Friends of ANZAC Bridge are focusing on the Mounted Rifles and the horses that went to war.
The ANZAC Day memorial service at Kaiparoro will also be attended by The ANZAC Mounted Troopers.
For more information about the Bridge: http://www.heritage.org.nz/the-list/details/3969
RECENT ANZAC BRIDGE FELLOWS - with project information:
2014 - Anna Borrie, Multimedia artist, Fiordland -- Harakeke Cloak Remembrance Project
2015 - Connah Podmore, Interdisciplinary artist, Wellington -- Writing to History and exhibition at Aratoi
2016 - Philippa Werry, author, Wellington --Two Bridges, Two Countries (Kaiparoro, NZ and Brooweena, Australia)
2017 - Christine Yardley, theatre and ceramics artist, Australia -- For King and Country , a series of community concerts featuring local and Australian performers, and also creative activities at local schools.
2018 – Rebecca Holden, Visual Artist, Wellington NZ -- Aotea – A Home Away from Home, WW1 project on the NZ women who ran the Aotea Convalescent Home for NZ soldiers in Egypt. She held a poignant Exhibition at Aratoi of this work.

2019 – Karen Wrigglesworth. Writer and Engineer, Whanganui, NZ -- Her writing project considered why we choose to build memorials to those we love, and explored the different forms memorials can take. She delivered a moving speech at the ANZAC Day Service at the Memorial Bridge at Kaiparoro - 'Memorials - Keepers of the stories we tell ourselves' - here are excerpts:
"As an engineer, it interests me that some war memorials are symbolic – like the broken cenotaph at Carterton, while some are functional – like the library at Nireaha. There are also a rare few – like this bridge – that are both...
"To my mind, there is no 'better' type of memorial. The relief they provided for those who built them, and the responses, conversations and the coming together they gift to us who come after, is reason enough for their existence. Memorials remind us what actually matters – kindness, compassion, and doing our best to care for one another."
As part of her Fellowship, Karen worked with Alfredton School students, some of whom were descendants of those remembered on the Kaiparoro Bridge, to write stories. They read stories aloud at the ANZAC Day service at Kaiparoro, and displayed artwork at Pūkaha afterwards.
Since the 2019 Fellowship, Karen has been working on a biography about Alfred Falkner, the engineer who designed the bridge at Kaiparoro, as well as a fictionalised story about Alfred and his bridge. In August 2019, for the first part of a Robert Lord residency, she began research on a similar engineering heritage project near Dunedin.
Note: Another relevant creative project is the 2012 children's book The Eels of ANZAC Bridge, authored by Ali Foster, illustrated by Viv Walker, and published jointly by Fraser Books and Wairarapa Archive - all four parties have been involved with NZ Pacific Studio over the years.
HOW TO APPLY
Please e-mail Lynette Dewes, Treasurer, NZ Pacific Studio with the following, in one Word / PDF file.
Email address: info @ artistresidency . org. nz
1. A short biography (under 200 words).
2. A description of your proposed community project, its objectives, its inspiration, proposed methods of community outreach, and any specific requirements you may have (under 200 words)
3. A statement of how the ANZAC Fellowship would benefit you and extend your practice at this time (under 200 words)
4. A sample of your work (if you are a writer, no more than 1,000 words; if you are a visual artist, no more than 3 images (please use low-resolution)
5. The contact details of two Referees whom we will contact if you are shortlisted (Name, relationship to you, email addresses, tel numbers)
**PLEASE assemble your entire application in ONE DOCUMENT eg Word or PDF document under 2MB total size.**
Applications close midnight Wednesday 22nd January 2020, NZ time.
Selection will be based on the nature and strength of an applicant's proposed project and the degree to which all parties would benefit: the creative practitioner, NZ Pacific Studio, the Friends of the ANZAC Memorial Bridge, and the community.
KEY SKILLS
Commitment to a personal creative practice; ability to work independently; leadership skills; a desire to connect with a wider audience and community; demonstrated skills/experience in conducting public outreach; open-mindedness and friendliness to be able to communicate with a range of people.
ADDITIONAL INFORMATION:
The successful Fellow would need to cover their travel costs to and from Masterton. The Fellowship is self-catering, so the Fellow would also need to provide for their own food while in residence. A Fellow should bring necessary equipment and supplies with them or liaise with NZ Pacific Studio about purchasing them once in residence.

Please see our Fellowship section for more information:
https://www.artistresidency.org.nz/page/521535
Posted: Mon 23 Dec 2019