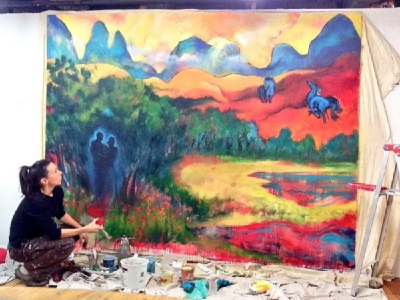 Kerri McGill's art practice is mixed-media map collage dreamscapes which she describes as "poetic observations of humanity" -- she says her internal map is "made of mountains, valleys and twisting streets of historic New England" where she works as a scenic artist for film, undertaking large-scale projects and a range of technical processes.
Kerri McGill is planning a presentation on the power of creativity, touching on how visual stimuli is interpreted into meaningful symbols in art and culture. She will present her collaboration with Outdoor Poems, a community project headed by Chris Daniell. Speakers include Gareth Winter, District Archivist, and Rawiri Smith, Ngāti Kahungunu ki Wairarapa historian and philosopher.
She has presented at Wai Art and Masterton Art Club and has been interviewed by RNZ's Lynn Freeman.
For the rest of March, she's working at ConArt in the Masterton Arts Quarter, Wed-Sun, 10-4:30. Stop in, say hello!
Posted: Sun 01 Mar 2020