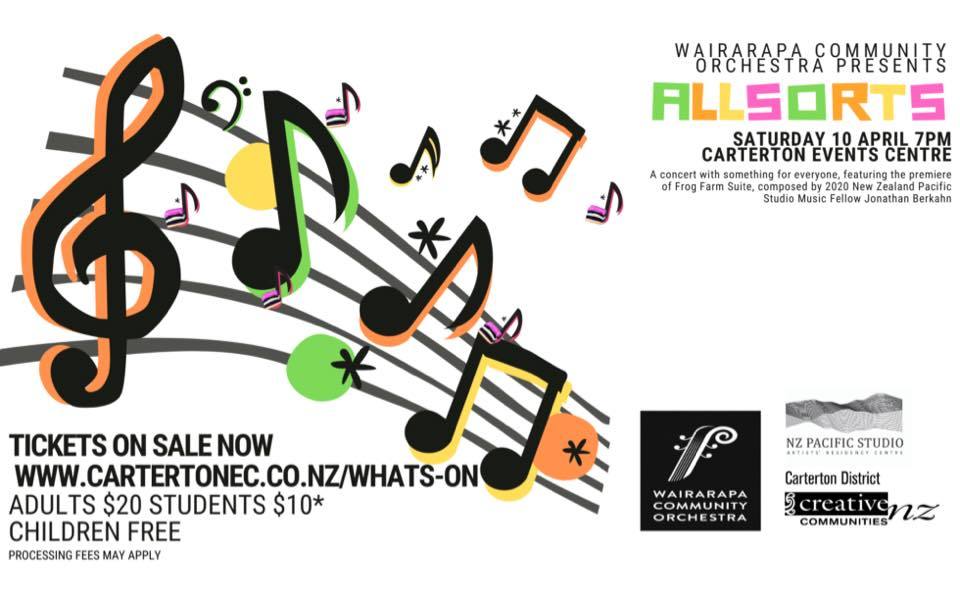 NZ Pacific Studio & Wairarapa Community Orchestra
welcome you to ALLSORTS -- music for everyone!!
The concert features
--the 1st performance of Frog Farm Suite by NZ composer Jonathan Berkahn
--Tahiti Trot, by Vincent Youmans
--Cello concerto by Georg Monn (1717-1750), with soloist Caitlin Morris
--Classical Gas, with solo guitarist Tom Cardno, Wairarapa College student
--Bacchanale by Saint-Saëns
--Dvorak's Slavonic Dance No. 1
--Great Gate of Kiev by Mussorgsky, part of Pictures at an Exhibition
Conductor: Ruth Eckford
$20 adults / $10 students / free for children under age 12
Frog Farm Suite was written for the Orchestra by Jonathan Berkahn while he was the 2020-2021 Music Fellow with NZ Pacific Studio. He was hosted at Frog Farm in Gladstone, the home of WCO bassoonist Belinda Carey.
ALLSORTS is the first collaboration with Wairarapa Community Orchestra.
The NZ Pacific Studio Music Fellowship and the ALLSORTS concert at Carterton Events Centre is supported by Carterton Creative Communities and Cross Creek Blues Club.
2020/2021 Music Fellow Jonathan Berkahn is an experienced musician, with a degree in composition from Victoria University, an honours degree in performance (organ, harpsichord, fortepiano), and a PhD in musicology. He is active with classical choirs, community groups, and folk/traditional bands.

The 2017 NZ Pacific Studio Music Fellow was Aldo Pinelli from Argentina.
The inaugural 2015 Fellow was Jona Byron from Australia.
For more about Wairarapa Community Orchestra:
https://www.facebook.com/waiorchestra/
https://www.cartertonec.co.nz/wairarapa-community-orchestra-saturday-10-april-7pm/?fbclid=IwAR09FKH09qpMm6qz9xbGcBY5GsXRzciendeIGi2L4PMFK2cLzg2Aby3ZrWs
Posted: Tue 30 Mar 2021