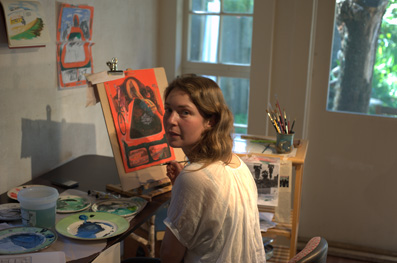 NZ Pacific Studio's 2014 Lavinia Winter Fellow, Emma Chalmers enjoyed a three-week residency at New Pacific studios to read and respond to the third chapter of 'The Ethics of Ambiguity', by the French philosopher Simone de Beauvoir.
Of interest to Emma, this piece of writing was Beauvoir's second major non-fiction work and is believed to be one of her most important and influential pieces of writing on human freedom, feminism and existentialism. A leaping off point for her investigation of societal pressures and roles, Beauvoir's text provided a conceptual framework and platform on which to visualise - through painting, its five chapters on, 'Aesthetic Attitude', 'Freedom and Liberation', 'The Antinomies of Action', 'The Present and Future' and 'Ambiguity.' Getting well started on a series of five individual paintings, Emma was interested in visualising her interpretation of Beauvoir's philosophical theories on the dynamics of the oppressor/oppressed relationship and the intricacies and nuances associated with interdependency and free action.
Bliss (2013), Gouache on Tiepolo Paper, 36 x 46 cm.