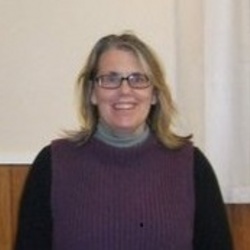 Rosalind Derby is an architect based on the Kapiti Coast but who works throughout Kapiti, Wellington, Horowhenua, Manawatu, Wairarapa, Lower Hutt and Days Bay.
One of her clients has been NZ Pacific Studio itself -- she designed French doors for the living room and the bedroom that opens out to the woodland gardens, additional windows for two other bedrooms, and designed the generously large bathroom that has become 'world famous' among our visiting artists.
Rosalind is also a painter and exhibited work in NZPS' 15th anniversary exhibition at Aratoi Museum, after which she undertook a short residency. She also participated in an Open Studio Day at which she discussed her designs for the residency centre.