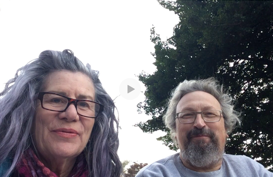 Environmental artist Jess Levine is the recipient of dozens of residencies, grants and public commissions and, with Aaron Chantrill, employs an inclusive approach to art making.
As a public artist team with a socially engaged practice, Levine and Chantrill have created installations all around the United States and in Ecuador, Puerto Rico, St John, US Virgin Islands, and Haiti.
Many projects include living plants, ranging in scale from large parks to pop-up installations at farmers markets, and gallery installations.
They employ a range of media, always sustainable and non-toxic and often re-purposed. They research the local habitat, natural history and culture, and engage the local folk whenever possible in idea generation and hands-on creative participation, endeavoring to encourage a commitment to conservation.
Jess and Aaron are observing and learning about the unique habitat in Wairarapa, with a focus on the coordinated animal movement of birds and pollinators. The organizing principle for their residency is to look at the landscape through portals, and making frames that create in the viewer a sense of wonder in nature.